This is just an ordinary girl's ordinary diary.
I woke up at 10am and went for blunch with my roommate at 11am. Just as usual, we talked about our Father in heaven, guys, holiday, timetable, etc
I know she is worrying about me, but I just dont know how to and what to tell her, sorry lark. I will back to normal soon, I promise =)
Ya, something really happened on me, but that's not a big deal and I am not really care about it =)
And......Ya Happy Belated Valentine's Day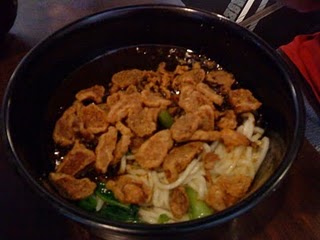 That's how I celebrate my Single Valentine's Day. I was addicted to Pan Mee in my 1st Semester, but now I rather eat instant noodle in my room than Pan Mee. XD
Thanks Shenn Yi, for always have meal with me, walk to college with me every morning, and be my listener =)
Chatted with Jian Wei just now. He said he's in love again, sounds like this guy is his bakal boyfriend.
That's good if he really found a life-mate, but the problem is, his bakal life-mate is a guy.
Suddenly I think of the guys that I liked. So shocked that I didn't forget their name XD
Yi Wen has broken up with her bf after Valentine's Day. A weird Valentine's Day actually, most of my friends broke up with thier "partner" after Valentine's Day.
You are true, it's not the time yet to me to have a relationship with a guy, but I miss him, I cannot control myself to not to think of him. Sorry, even though I know it is wrong.