♥♥Jasmine♥♥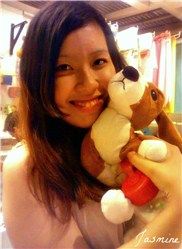 ♥♥Kiwi's story♥♥
The outlook of a kiwi fruit is hairy and brown, overall, dull. It reflects what people who has never really understood me think about me. The inside of a kiwi is fresh and striking in color, which represents my personality. Some may like it and some may just be repulsed by it. Not many people know that the kiwi fruit has 5 times more vitamin C than an orange! In other words, my charisma and personality is much higher in a sense that I'm someone any friend would wanna be with... Nevertheless, the dark kiwi seeds, they're the mystery parts of me whom only few would ever know. With these pieces together, I'm complete, just like a kiwi fruit.
♥♥Tweety Bird♥♥
♥♥Recently Update♥♥
♥♥Any Comment? ♥♥
If you like what you've read, what bout a lil' gift from you to me? Perhaps a comment? As a token of appreciation...

If you don't like what you've read, kindly click the "X" button on the upper right side of the window.